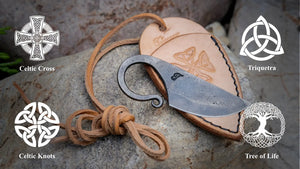 Celtic Symbols: Journey Through History and Mysticism
The mystique of Celtic symbols transcends epochs and geographical boundaries, captivating both aficionados and scholars alike and inviting them into the enchanting realm of these ancient emblems. These symbols beckon us to explore the intricate tapestry of Celtic beliefs, values, and aspirations. From the Triquetra to the Celtic Cross, each symbol serves as a portal, unlocking the secrets of an era defined by resilient warriors, rich folklore, and a profound connection to the spiritual dimensions.

Historical and Cultural Significance

The Celts, a diverse group of people whose influence spanned from the Iron Age to the early Medieval period, left behind a treasure trove of symbols that not only adorned their artifacts but also narrated stories of their worldview. Far beyond mere visual representations, these symbols acted as a language, a means through which the Celts conveyed their spirituality, celebrated victories, and sought guidance in the face of the mysterious forces shaping their existence.
Connection with Toferner products
Each Celtic knife crafted by Toferner is not merely a tool; it's a testament to a profound connection with the ancient world. The meticulous attention to detail in every design reflects a commitment to preserving the essence of Celtic symbolism, allowing each user to carry a piece of this ancient legacy in their hands. With Toferner, the art of knife-making becomes a journey through time, where each blade tells a story of resilience, spirituality, and the enduring allure of Celtic symbols.
Celtic Cross
Combining a cross with a circle, emphasizing the connection between Christian faith and natural elements. The cross symbolizes faith, while the circle represents the sun and eternal life. It was often used as a religious symbol, especially in Celtic Christianity.
Triquetra
The Triquetra consists of three arcs forming a triangle. It symbolizes not only the three elements (earth, sky, sea) but also three virtues: faith, hope, and love. Used in Viking and Celtic art as a protective and spiritual symbol, its design adorns many ancient artifacts.
The Triskelion
The spiral symbolizes the cycle of life, death, and rebirth. It is an expression of energy and infinity. In Celtic art, it was often carved into stones and jewelry, representing natural forces. Its use also reflected natural cycles and mysticism.
Tree of Life
The Tree of Life is depicted with roots in the ground and branches reaching towards the sky. It represents the interconnectedness of all living things, growth, and unity. Used on Celtic metal artifacts and decorative elements.
Celtic Knots
Celtic knots are intricate patterns without a beginning or end, emphasizing infinity and immortality. Carved into stone slabs, they were used as decorations on jewelry and metal artifacts.
---